The US multinational's plant in Carreño produces key phytosanitary solutions for farmers all over the world
Corteva employs more than 400 workers in our region. The Centre of Excellence is an international commitment to talent and diversity from Asturias
The US multinational Corteva Agriscience yesterday opened the doors of its facilities in Asturias, which are reinforced as a site of reference in the company's international strategy.
Corteva Agriscience is the largest listed 100% agricultural company in the world and has a total of 44 hectares in Asturias, with three key points: the European and Global Services Centre of Excellence, the phytosanitary production plant and the water treatment plant.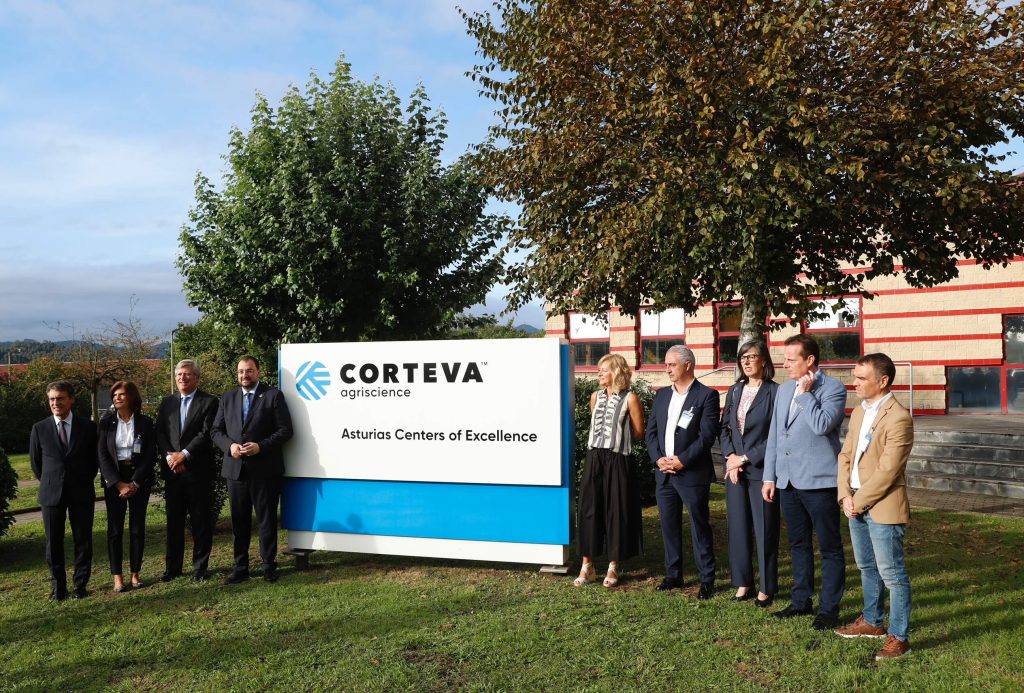 Manuel Melgarejo, Corteva's President for Spain and Portugal, stated during the presentation that "Asturias is a strategic point within the company's international structure, functioning as an operations centre for the global business".
Corteva is a benchmark in technology applied to seeds, crop protection and digital agriculture with a presence in more than 140 countries.
At its facilities in Valle de Tamón (Carreño), Corteva employs more than 400 workers of 16 different nationalities. A team that has already grown by 15% since its arrival in Asturias.
Susana Rebaque, head of the Corteva Asturias site, gave yesterday some figures that reflect the company's strengthened commitment to our region. "In addition to the investments made at the time for the start-up as a new company in Asturias, our manufacturing plant has recently been chosen for the global production of some of the phytosanitary solutions that will be key for farmers around the world. It has meant an investment of around thirty million euros", said Rebaque.
The manufacturing plant produces three of the twenty-three active ingredients that form part of Corteva's global portfolio. Likewise, the plant located in Asturias is one of the nine production plants of the multinational's own assets that the company has around the world.
International commitment to talent and diversity from Asturias
The head of Corteva Asturias added that the Centre of Excellence is "an international commitment to talent and diversity from Asturias, serving 39 countries in Europe, the Middle East and Africa" in the areas of Finance, Human Resources and Purchasing, in addition to other key positions for the company globally.
Finally, Corteva is responsible for the water treatment plant, which leads the management of the supply to all the companies that make up the industrial park.
Asturias, at the forefront of the phytosanitary industry
The President of the Government of Asturias, Adrián Barbón, stated during the presentation of the facilities that "Corteva places Asturias at the world forefront of the phytosanitary industry, which takes care of agricultural production".
The location of this company in the Tamón Valley is "a further demonstration of the industrial strength of Asturias", Said Barbón. In this regard, he stressed that companies in our region "have taken the lead in shipbuilding, in the production of components for wind energy, in the execution of contracts for the defence industry and in the development of green hydrogen".